25 Years Cine Tirol
---
A cinematic success story celebrates its birthday - on April 1st, 1998 Cine Tirol was presented to the public for the first time as an initiative of the Tirol Tourist Board and the Province of Tirol.
With the involvement of the Cine Tirol Film Commission, more than 1,900 film productions from Austria and abroad have been brought to the Tirol so far. The productions have not only brought enormous economic effects for the province, but have also contributed to establishing Tirol as an extremely attractive location for national and international film projects and, moreover, to inspiring people near and far to spend their holidays in the "Heart of the Alps".
Tirol is a very popular film destination – Cine Tirol is largely responsible for this. The Film Commission is the contact and central point of contact when it comes to the production of cinema and television feature films, TV series and serials, but also documentaries, music videos and commercials in Tirol and when information, services and support are needed for this. Now Cine Tirol celebrates its 25th birthday and looks back on successful years.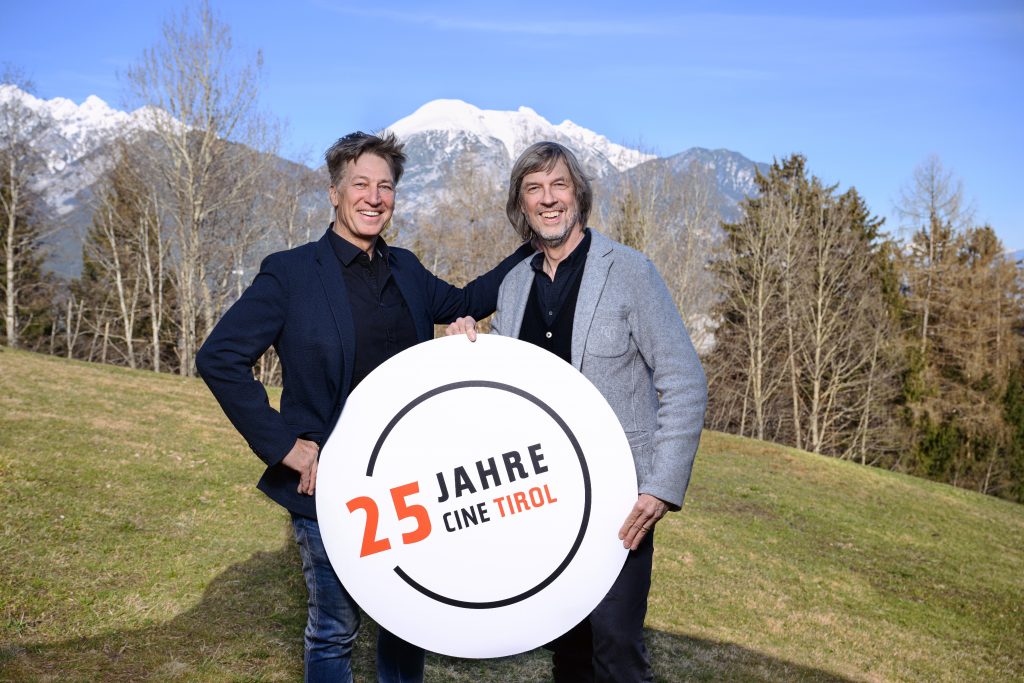 Tobias Moretti, Tyrolean actor, congratulates on this anniversary: "Cine Tirol is as diverse as the entire genre: the spectrum ranges from cinema to Netflix productions to TV series, and with a quality standard that is so often above standard. The founding intention was the long arc of a partnership between film, art and the creation of value for the country. Now 25 years have passed, the VW Beetles of the Federal Forests have already been decommissioned, Cine Tirol still exists. The fact that films like 'Märzengrund', 'Dead in 3 Days II', 'Schwabenkinder', 'The Edukators' etc. have been realised is also thanks to the persistent and highly empathetic boss Johannes Koeck. Congratulations to him and his team and here's to something new again and again!"
"This is not our work alone, but is due to the excellent and understanding cooperation of many authorities, companies and people in our province – our thanks go above all to the Tyrolean tourism associations, the local filmmakers as our partners and in a special way to the very film-friendly population of Tirol," emphasises Johannes Koeck, director of Cine Tirol since its beginning.
High public awareness and added value for Tirol
Over the past 25 years, more than 1,900 film projects have been realised in Tirol. These include well-known feature films such as "James Bond 007 – SPECTRE", TV series such as "Tatort" and TV series such as "Der Bergdoktor". Films with Tyrolean actor Tobias Moretti, e.g. "Schwabenkinder" and "Andreas Hofer – Die Freiheit des Adlers", commercials of big brands and music videos of famous singers like the British world star Ed Sheeran or the German band Rammstein were also shot in Tirol. To date, Cine Tirol productions have reached over 8 billion viewers on television, in cinemas and on streaming platforms. The resulting added value for Tirol is also considerable. "The local economy has benefited greatly from our productions," says Johannes Koeck, head of Cine Tirol. Since 1998, more than 155 million euros in production-related expenditures have been made in Tirol, especially for accommodation, catering and transport of the film teams, but also for motif rentals and fees of the Tyrolean filmmakers who participated in the filming. The filming of "James Bond 007 – SPECTRE" in Sölden and Obertilliach alone resulted in almost 9 million euros being spent in Tirol.
Holiday bookings at filming locations
So far, more than 13,000 filming days have been spent in all districts of Tirol – from East Tirol to the Außerfern. This also has a great advertising effect for Tirol as a tourist destination. "Many people are so impressed by the films that are filmed in our province that they decide to spend their holidays at the filming location or in the respective region," says Koeck. The Wilder Kaiser region, for example, became extremely well-known through the TV series "Der Bergdoktor", especially in German-speaking countries. The Ötztal and East Tirol also benefited from the film "James Bond 007 – SPECTRE", which was shot there – the construction and operation of 007 ELEMENTS high above Sölden also created a globally unique and award-winning "sight" not only for Bond fans.
Sustainable filming: "Green Filming Tirol"
The "Green Filming Tirol" initiative also shows that the Cine Tirol Film Commission is constantly developing and is in tune with the times. The aim is to provide support to the film industry in converting to sustainable filmmaking and thus also in implementing the sustainability strategies adopted by the EU as well as the federal and provincial governments in a concerted manner. In this context, an online marketplace is offered, for example, on which products and services are listed that regional and sustainable companies offer to filmmakers.
Films from (almost) all over the world "shot on location Tirol"
Through appropriate marketing and communication measures on the part of Cine Tirol in the context of international film festivals and events, for example in Berlin, Cannes, London, Venice, Los Angeles, Mumbai and Shanghai, film producers around the world were made aware of the attractive film locations in Tirol – as a result, numerous film projects were also brought to Tirol outside of the German-speaking and European regions, including from the USA as well as from Canada, India, China, South Korea and Brazil.
A look into the future
"We look back full of joy and gratitude – the idea of the founding fathers Erich Hörtnagl and Josef Margreiter has been successfully implemented, enabling us to make Tirol the leading film country in the Alps," Johannes Koeck emphasises. "Thanks to the diverse experiences during the past 25 years and due to the international network we have created during this time, we can also look to the future with confidence. The new federal incentive model for Austria as a film location also helps us enormously to promote Tirol as an extremely attractive film location in Austria and abroad, as well as to bring numerous and diverse film projects to Tirol in the future."
Statements on Cine Tirol and the film land Tirol:
Films produced in Tirol excellently present the breathtaking nature and cultural diversity of our country. This has a positive effect in many ways. Film productions in Tirol contribute to the economic, cultural and touristic development of our country and raise its profile on the global stage.

Anton Mattle, Governor of Tirol
Film productions often bring significant investment to the region, as many expenses benefit the local economy. This can help support local businesses and create jobs, especially in the tourism and hospitality sectors. It also increases interest in the region among people around the world, which also attracts tourists.

Mario Gerber, Member of the government of Tirol, Provincial Councilor for Economy, Tourism and Digitalisation
I am particularly proud of the Cine Tirol database. According to the motto "Time is money", it provides all the information a producer needs quickly and at a glance when deciding whether to locate a film production here. In addition, Cine Tirol impresses with the way it makes personal contact with producers, which is characterised by a lasting effect beyond the shooting.

Erich Hörtnagl, Tyrolean director and producer, was the initiator and author of a study on the creation of Cine Tirol
The idea was to make Tirol the leading film country in the Alps through international promotion, professional location services and financial incentives. We succeeded. Tirol presents itself to an international audience as an outstanding natural and cultural region. Large productions in particular are temporary businesses that not only generate millions in revenue for the location but also have effects far beyond.

Josef Margreiter, CEO Lebensraum Tirol Holding, was the founding father of Cine Tirol in 1998 in his then function as CEO Tirol Tourist Board together with Erich Hörtnagl
The realisation of film projects in Tirol brings economic and media effects. On the one hand, film crews spend money here and book accommodation – this contributes to positive added value in the province. On the other hand, the advertising drum is beaten around a film project and so the images from Tirol also have a touristic effect. They can inspire the audience to spend their next holiday in Tirol. In addition, films "made in Tirol" also employ Tyrolean filmmakers. Incidentally, Cine Tirol is the first professional institution in Austria to have brought together competences in this field 25 years ago.

Karin Seiler, CEO Tirol Tourist Board
Numbers & Data
Over 1,900 realised projects, including feature films & documentaries for cinema and TV, series and serials for TV and stream, TV shows, commercials, music videos and photo shoots
More than 13,000 filming days
Over 155 million euros production-related expenditure in Tirol
More than 8 billion viewers
Facts
The biggest production: the feature film "James Bond 007 – SPECTRE" with over 700 filmmakers in Sölden and Obertilliach
Most broadcasts: the TV series "SOKO Kitzbühel" with 20 seasons (2.3 billion viewers; total of first-runs and repeats in Germany and Austria)
Most views: the music video "Perfect" by Ed Sheeran (3.3 billion views on YouTube)
Highlights and milestones
include the feature films "James Bond 007 – SPECTRE", "Ein ganzes Leben", "Die Theorie von Allem", "Downhill", "Madison", "Märzengrund", "Luzifer", "Klammer – Chasing the Line", "Eddie the Eagle", "Point Break", "Snowpiercer", "Stars in the Winter Sky", "Tiger Zinda Hai" "Yuvvraaj", "Saaho", "As in Heaven", The Edukators", "Last Holiday", "Dead in 3 Days 2", "xXx – Triple X", "Der Architekt", "Chalet Girl", "März", "Brimstone", "Das Geheimnis der Schneekönigin", "Rise up and Dance!", "Vals", "Extreme Ops", "Andreas Hofer – Die Freiheit des Adlers", "Lapislazuli – Im Auge des Bären", "Bergkristall", "Vollgas", "Die Skitour", "Helden in Tirol", "Flashback"; the TV productions "Der Schandfleck", "Schwabenkinder", "Franz und Anna", "Gefährliche Gefühle", "Gipfelsturm", "K2", "Die Lawine", "Crazy Canucks", "Das Weihnachtsekel", "Der letzte Kronzeuge", "Ausgelöscht", "Gletscherblut", "Der Bär ist los", "Die Hüttenwirtin", "Die Wanderhure", "Die Hebamme – Auf Leben und Tod", "Die Aufnahmeprüfung", "Der Meineidbauer", "Stille", "Fremder Feind"; the TV serials "Tatort", "Landkrimis Tirol: Das Mädchen aus dem Bergsee bzw. Der Tote in der Schlucht", "Stadtkomödie Tirol: Die Lederhosenaffäre", "Im Tal des Schweigens", "Wilder Kaiser", "Da wo die Berge sind", "Der Metzger", "Team Alpin", "Einsatz in den Bergen: Der Armbrustkiller", the TV series "Der Bergdoktor", "SOKO Kitzbühel", "Euer Ehren", "Aus die Maus", "Pardes Mein Hai Mera Dil" and "Powder Park"; the Netflix-series "KITZ" and "Totenfrau" as well as doucmentaries like "Glockner – Der schwarze Berg", "Unterwegs nach…Heimat", "Vom Leben am Steilhang", "Im Reich des Steinadlers", "Der Inn", "Schnee", "Streif – One Hell of a Ride", "Stams"; plus short films by mostly young filmmakers from Austria and abroad, e.g. "Excuse me, I'm looking for the ping-pong room and my girlfriend" and "Chrysalis" as well as a lot of commercials of leading companies and brands like BMW, Porsche, Jaguar, Mercedes, Volkswagen, Opel, Suchard, Coca Cola, Pepsi, Sony Ericsson, Tchibo, Karstadt, Napapijri, Scania, Shell, Garmin, Samsung, Telekom. In addition, there are numerous music videos like "Perfect" by Ed Sheeran, "Ohne Dich" by Rammstein, "Parasol Peak" by Manu Delago, "L'ultima notte al mondo" by Tiziano Ferro and "Enni soni" from the Bollywood movie "Saaho".